Fish Academy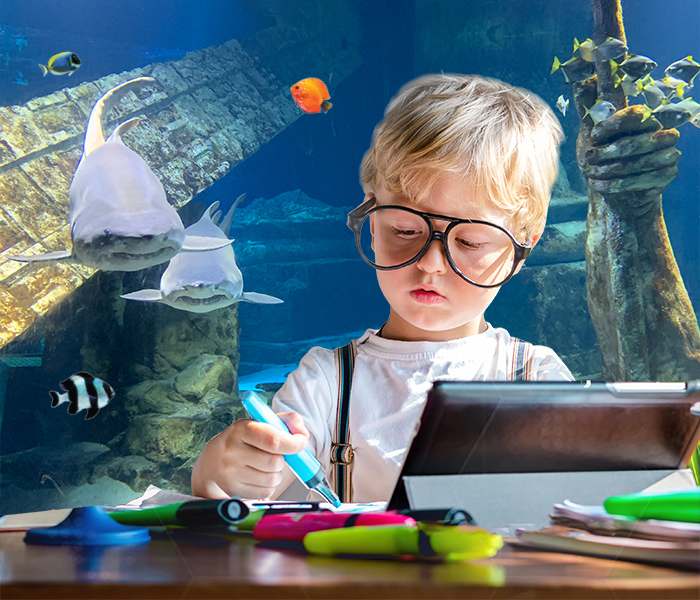 Do you need a safe place for your children to do their remote school work while you GO to work? Send your child to our brand-new Fish Academy!
We provide a safe learning environment including large, quiet, rooms where children will be spaced out at least 6 feet apart, high-speed internet access and Aquarium educators that will provide support as your child works independently. When the school work ends, the fun begins as kids partake in Aquarium themed activities, games and projects.
• We follow all CDC Guidelines to ensure your child's safety
• Mask breaks for the kids will take place when children are working independently
• Staffers will reinforce the importance of good hygiene including frequent hand-washing and social distancing
• Educators will monitor distance learning, independent reading and quiet activities
• Students will enjoy the aquarium and aquarium-themed activities when their work is completed
PARENT CHECKLIST:
• Send your child to Fish Academy with lunch, drinks and snacks. Remind your child there's no sharing!
• Must supply Laptop/Chrome Books and school provided assignments
• Children must have a mask to wear when people move throughout the classroom or while visiting the Aquarium
• Child must be able to work independently
• Immunizations Required – no exceptions!
• Students must feel well, exhibit no symptoms of Covid 19, nor can they have contact with anyone who has Covid 19.
Call

631.208.9200, ext. 426

to reserve your child's spot!
Email: info@amwny.com with any questions.
PRICE:
$50/day* (non-members)
$45/day* (members)
$25/day* Before and/or After care
SESSIONS:
Monday to Friday 9:30am to 2:30pm
2, 3 or 5 day options
Before care @ 8:30am / After care until 5:30pm
*All prices plus tax.
We reserve the right to cancel, change or alter any program due to attendance.
FREQUENTLY ASKED QUESTIONS
Do I need a reservation?
Yes, reservations are required 72 hours prior to Fish Academy reservation date.  Walk -Up or Day-Of registration cannot be guaranteed AND will incur a late registration fee of $25.00.
When do I make my payment?
Full payment is due when you make your reservation.
Can I get a refund if my child needs to stay home?
Refunds will not be issued for no-shows without calling in advance.  Cancellation must be 72 hours in advance for a refund.  If your child is sick and must stay home, you will get a credit to use for another time.  Date change requests are subject to availability.
Can my child come to Fish Academy if they are sick?
No.  If your child has a fever or has any symptoms related to Covid 19, or any other illness, your child must stay home.  Please call us at 631.208.9200, ext. 121 and leave a message for us that your child will not be at Fish Academy due to illness. If you call less than 72 hours before Academy, you'll get a credit to use for another date.
What happens if my child becomes sick at Fish Academy?
We will relocate your child to a room where they can rest and wait for pick up. Your child must be fever free and exhibiting no symptoms of sickness for 24 hours prior to returning to Fish Academy, or on a prescribed antibiotic for 24 hours.  If you suspect your child has Covid 19, you must follow NY Department Of Health guidelines including testing and quarantining prior to returning to Fish Academy.
What if someone in my household has Covid 19?
Should a member of your immediate family have a positive Covid 19 test, your child will need to quarantine at home for 14 days prior to returning to Fish Academy.
Do you have hand sanitizer and cleaning products available?
Hand sanitizer and sanitizing wipes will be provided.  All desk surfaces will be cleaned before and after use.  The rooms/areas occupied by students will be cleaned each day before and after use.
What should my child bring with them to Fish Academy?
Students must bring snacks, lunch and drinks each day.  Students will not have access to a microwave or refrigerator, nor will they be able to purchase lunch (at this time). Students must also bring all school supplies and materials with them.  We do not have extra supplies for them.
Where do I drop off and pick up my child?
Drop Off/ Pick up will be at the west gate of the aquarium.  Please do not drop off/pick up at main entrance. Drop Off  Before Care is from  8:30am-8:45am.  Without morning care, drop off is from 9:30am-9:45am. Fish Academy Pick Up is at 2:30pm.  After Care runs until 5:30pm, the latest you can pick up your child.  All students picked up after 5:40 pm will incur late fees of $10 per child.  Pick Up later than 6 pm will incur a $5 per minute charge.