Nicole and Jenna volunteer at CIMWI
Volunteer at CIMWI by Nicole MacDonald and Jenna Mercurio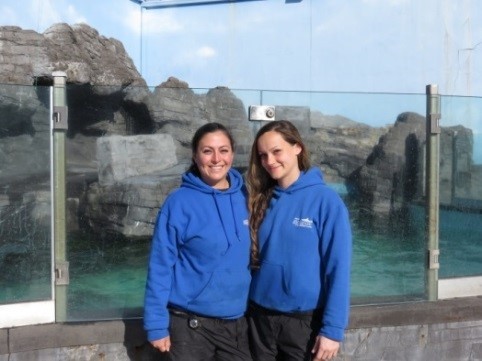 Nicole MacDonald is the Senior Animal Trainer at the Long Island Aquarium. She and Jenna Mercurio, another Animal Trainer, volunteered at the Channel Islands Marine and Wildlife Institute this spring, to help with the California sea lion stranding problems. CIMWI rescued Nila, the Aquarium's young sea lion, who was deemed unreleasable and in need of a forever home. The Long Island Aquarium worked with CIMWI to get Nila to New York back in 2014. Take a look at Nicole and Jenna's thoughts on their volunteer mission below.
Nicole MacDonald
During my experience with Channel Islands Marine and Wildlife Institute (CIMWI), I kept a journal to detail my thoughts, feelings, and overall experience. What follows is a brief synopsis of my journal.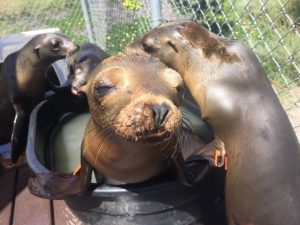 Prior to my arrival I spent time anticipating what it would be like to aid at a rescue facility. I steeled my emotions to prepare myself for what I knew would be some difficult times and reminded myself of the awesomeness of Mother Nature. The second I arrived on property, I fell instantly in love with the fuzzy faces of all the patients. I was lucky enough to stay on the property of CIMWI and wake up each morning to the sounds of juvenile sea lions; which sound like funny little sheep.
Every day was filled with cleanings, feedings, providing essential medical care,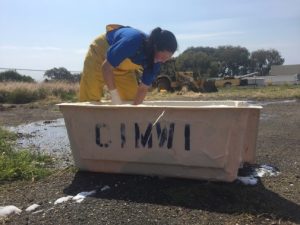 preparing for the following days, and record keeping. A typical day would entail the intake of four to seven new animals who desperately needed rescue and rehabilitation care and an average staff of six individuals. Almost all of these individuals were volunteers. Every one of them was incredible and dedicated – with some driving hours each way, just to volunteer. I learned essential skills from each one of them and immediately jumped right in to help.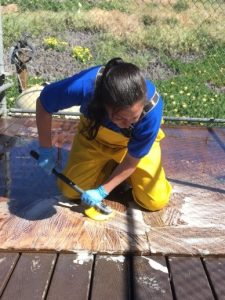 Some days were very difficult as patients would succumb to their issues but each day was a blessing. On my second to last day, I was able to participate in a release. It was the most moving experience I have ever been a part of. To see these animals go from literally being bags of bones that are lethargic and sick, to being healthy, chubby youngsters is amazing. I saw the full circle of rehabilitation and it touched me immensely.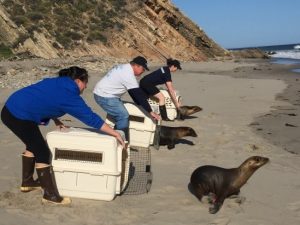 CIMWI is fantastic organization and I'm so grateful to have gotten the opportunity to go there and help. What they do on a daily basis is awesome. They are truly sea lion superheroes. I left CIMWI proud; proud to be an animal trainer and more so, proud to be an animal trainer at the Long Island Aquarium. The level of care we devote to each one of our animals is impressive, whether it is a spider crab or 400lb sea lion. I am proud to be associated with this level of care and I know each one of our animal ambassadors help their wild counterparts.
Nila's story in particular can and does inspire many more people to help. Through Java, Bunker, and Nila, we can help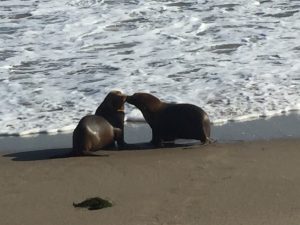 people in our community become scientists, researchers, biologists, and saviors to these amazing animals. It is in our hands to help find a solution to this sea lion crisis and I know we can do it. My only regret is that I could not stay longer and help more sea lions! Thank you again to LIA and CIMWI for allowing me to have this amazing experience and passing so much valuable knowledge on to me.
Jenna Mercurio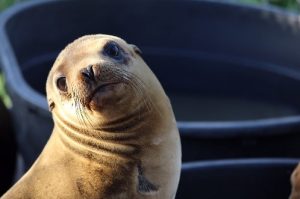 I feel so lucky and fortunate to have been able to spend a week with CIMWI, Channel Islands Marine and Wildlife Institute in Santa Barbara, California. It was such an honor to work alongside such amazing and hardworking individuals, most of whom were volunteers like me. The work they do is incredible and knowing that I actually aided in the care that helped to save some sea lions' lives is something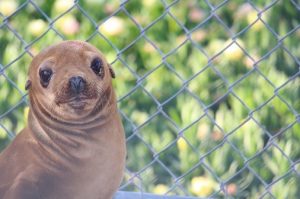 I will always remember. I learned so much of the facility's inner workings while being there; everything from their record keeping and their organization of all their patients coming in, to helping animals get ready for transport to be released, the staff made sure I learned everything I could which was invaluable to me.
Within my first hour of being there I was already getting my hands dirty and helping with any and everything. It was great to be able to help in so many different aspects of the care they give to their rescued animals. It was also an amazing opportunity to be able to see the facility and work with the people that helped to save Nila's life as well as so many others. The only downside to the experience was not being able to stay longer! Sea lion pup faces are quite hard to say good-bye to! I urge all who can, to help and support rehabilitation facilities, like CIMWI, in any way; whether it be donating or actually volunteering, like me! Any little bit helps them to help marine wildlife, like Nila, and their conservation.
About CIMWI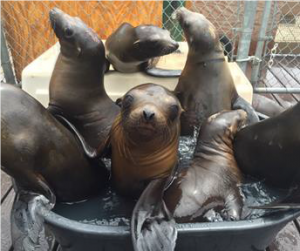 Channel Islands Marine & Wildlife Institute is a 501(c)(3) nonprofit organi zation dedicated to positively impacting conservation through marine mammal rescue, rehabilitation, research and education to promote ocean and human health. CIMWI is the only authorized organization to respond to and rehabilitate pinnipeds (seals and sea lions) and cetaceans (dolphins, porpoises and whales) for Santa Barbara County and Ventura County which encompasses 153 miles of coastline.
CIMWI is experiencing unprecedented reports of marine mammals in distress and is rescuing record numbers of pinnipeds (seals and sea lions). The majority of these are malnourished, dehydrated, immune compromised, and emaciated California sea lion pups associated with the Unusual Mortality Event (UME) that need immediate intervention and medical care to survive. 266 pinnipeds have already been rescued and treated this year which is 6 times more than normal!
CIMWI's facility is located at the historic Vista Del Mar Union School campus on the Gaviota Coast which was abandoned in 1985. CIMWI is working to restore the buildings and expand their capacity to better meet the growing demand for their services and the needs of their organization while they are rehabilitating these stranded marine mammals.