History and Facts about The Long Island Aquarium
Check out the history & facts of the Long Island Aquarium. Long Island Aquarium is located in downtown Riverhead, Long Island, on 3.2 acres along the scenic Peconic River.
Construction on Long Island Aquarium began in late spring of 1999. The facility officially opened on June 15, 2000, becoming the first large-scale Aquarium to open in New York State in more than 35 years.
Today, millions of people have visited the Long Island Aquarium, making it one of Long Island's most popular year-round attractions.
Notable Facts
Home to one of the Western hemisphere's largest all-living Coral Reef display.
More than one million gallons of water.
Exhibit ocean water delivered by tanker truck from Shinnecock Bay.
Houses one of the largest living insect exhibitions in North America.
Named one of the Top 10 Interactive Aquariums by Parents Magazine.
Featured on several TV/Reality TV Shows such as Tanked, Project Runway Allstars, Sesame Street
We're AMMPA Accredited!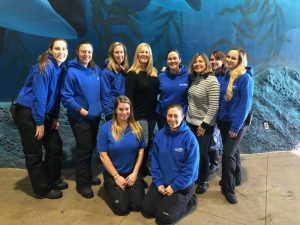 We're proud to announce we have received accreditation by the Alliance of Marine Mammal Parks and Aquariums.
AMMPA accredited facilities are recognized as the Gold Standard throughout the world, for zoological parks and aquariums with marine mammals. This accreditation recognizes our dedication to the highest standards of animal care, state of the art veterinary practices, exceptional welfare practices, conservation and education.
Getting this endorsement was a rigorous two-year process that consisted of compiling information, submitting a thorough and complex application, followed by an intensive inspection of the our facility and staff. Candyce Paparo, Director of Animal Training said "It's very exciting to be considered among the top marine mammal facilities in the world and to finally get this team the recognition it deserves for being some of the best professional animal specialists in the world as well!