Our seals welcome all visitors to the Long Island Aquarium! Located right outside the main entrance, the 800-square foot natural rockscape pool provides a home to our harbor seals (Phoca vitulina) and our gray seals (Halichoerus grypus).
Unlike sea lions, harbor seals and gray seals are true seals. They lack the ear flaps that sea lions have, but they are just as beautiful! They spend much of their day either lying around on the shorelines or hunting for fish and marine invertebrates in the sea.
The Long Island Aquarium's gray seal, Gray Beauty, has a particularly compelling story. She was rescued by the New York Marine Rescue Center. Despite her blindness from cataracts, Gray Beauty was patiently nurtured at the Long Island Aquarium until she was able to comfortably navigate the exhibit on her own. In 2021, Buddy Holly, another blind gray seal was rescued and by the NY Marine Rescue Center. His blindness meant he could not be released back into nature and he joined the aquarium's seal habitat as well.
The Aquarium's Marine Mammal trainers work with our seals throughout the day. You can stop by anytime to watch the seals perform a variety of training behaviors or you can simply watch them play! Don't miss the Seal Training & Feed Session daily.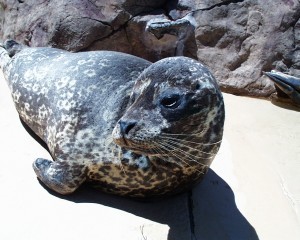 Western Atlantic Harbor Seal
Scientific Name: Phoca vitulina
Weight: 200-250 pounds.
Length: 6 feet. Lifespan: 20-30 years.
Range: Northern Atlantic Ocean.
Habitat: Sandy and rocky coldwater coastlines.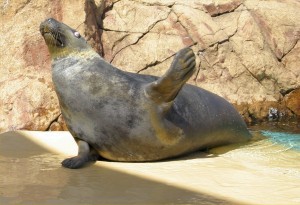 Gray Seal
Scientific Name: Halichoerus grypus
Weight: 300-700 pounds.
Length: 6-7.5feet.
Lifespan: 30-50 years.
Range: Northern Atlantic Ocean.
Habitat: Sandy and rocky cold water coastlines.
Get up close and personal with our Seal Encounter adventure. Click HERE for the details and to reserve.
Do you love our seals and would like to send them a gift? Check out their Amazon Wish List