Create a masterpiece!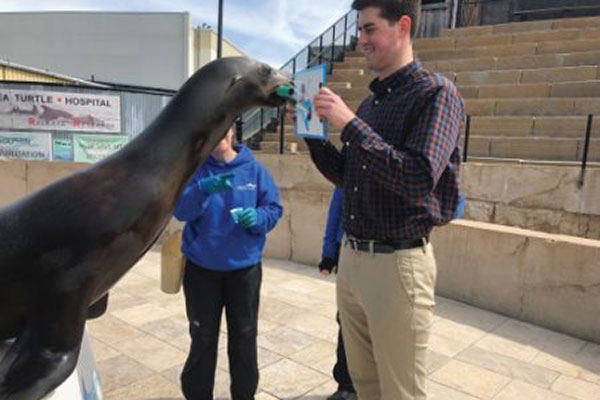 Create a Custom Canvas with our Sea Lions during Painting with Pinnipeds!
Learn all about the stars of our Sea Lion presentations and participate in a show!
• Learn about these playful animals, why they are so important to us and learn about enrichment activities.
• Find out why and how the sea lions paint, about the materials used, select your paint colors and get a briefing on the experience.
• At the end of the session, you'll have a one-of-a-kind painting completed by a California Sea Lion!
When working with animals, they call the shots. Each encounter is unique and may contain different elements. This adventure is approximately 30 minutes.
When: Available May through September 25,
Sundays @ 3:45pm
Mondays @ 10:15am

Ages: 10+
Price: $50 (Aquarium Members: $45)*
Must be 10 years or older and reserved 24 hours in advance. All participants must complete waiver prior to adventure. Aquarium admission is not included and is required for the adventure.
>> Click HERE to Download/Fill Out the Waiver <<
Painting with Pinnipeds Available May through September 25th
Pinniped Encounter Rules
SEAL ENCOUNTER: Guests must have the ability to go up and down steps and uneven surfaces. Unfortunately, guests in wheelchairs cannot be accommodated.
SEA LION ENCOUNTER: Guests in wheelchairs can be accommodated, please notify staff at the time of reservation.
To ensure the safety of our animals, personal cameras (including those in cell phones or other electronic devices) cannot be used during your animal program.
No refunds will be issued for cancellations made less than 24-hours prior to the reserved program. Payment is required at the time of booking.
We go rain or shine! No refunds for bad weather unless Long Island Aquarium cancels the excursion.
No refunds will be issued for guests that do not meet the program requirements for age, physical fitness, or who violate company policies.
Long Island Aquarium reserves the right, under certain circumstances, to omit specific behaviors or interactions from the program.
Participants must not have contact with any wild marine mammal within 48 hours of participation to avoid disease transmission to our animals.
Long Island Aquarium reserves the right to refuse service to any guest under the influence of alcohol or any illegal drugs.
Participants must be able to understand basic instructions in English in order to safely participate.
No flip flops, open back, open toe, or high heeled shoes. Sneakers are recommended. Please be advised that feet may get wet.
Participants should be willing to participate in the program and be comfortable with interacting with a live animal.
Follow directions at all times.
No food or drink in animal areas.
Do not feed the sea lions until instructed.
No chewing gum.
Do not enter animal areas until instructed.
No sunglasses or other eyewear unless prescription for vision correction.
Watch footing. The beach may have an irregular surface and may be slippery.
No strollers will be permitted in the encounter
Disinfect hands, as instructed, prior to the program.
Do not touch the animal until instructed.
Be very careful around the sea lions eyes, ears, and mouth.
No sudden movements or yelling.
Exit the program area when instructed to do so.