Bird Encounter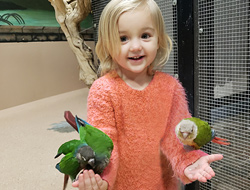 Get up close with our colorful conures, parrots and
parakeets! Get in the bird cage with an educator and learn
about these colorful bird ambassadors. Get some bird
seed to feed them by hand and take some photos of the fun!
Due to Covid 19 and the need for social distancing, we
have made this encounter one that has limited availability
and that must be reserved in advance.
All participants MUST wear a mask during this adventure.
Daily at 11:30am, 1:30pm, 3pm
(15 minute encounter)
$10/pp*
11:30 & 1:30 Bird Encounter:


3pm Bird Encounter:


*All prices plus tax. General Aquarium Admission required